This site is for sale, Learn More
Click Fraud
How To Avoid Click Fraud
Originally Published: January 18, 2005
What is click fraud?
Who are these people?
People who joined Google AdSense or other per click affiliate programs click on the ads on their own web site to make a little income. Often, these people cooperate with other webmasters to click on each other's ads.


Some unethical companies click on the pay per click ads of competitors to drive up their advertising costs.


Companies (often in India, Russia and China) hire people who are paid to click on ads. (Intentionally broken sample link: [timesofindia.indiatimes.com/articleshow/msid-654822,curpg-1.cms] )
Is click fraud really a big problem?
What can you do to save money?
Copyright by Axandra GmbH, publishers of SEOProfiler, a complete SEO software solution.

All product names, copyrights and trademarks mentioned in this newsletter are owned by their respective trademark and copyright holders.
Site Promotion Articles Indexes: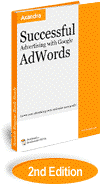 Writing Optimized
Google AdWords