This site is for sale, Learn More
Google's Latest AdWords Change
Google Adds Landing Page To Its Quality Score
Originally Published: December 13, 2005
What Is Google's Quality Score?
What Does This Mean To Your AdWords Ads?
What Can You Do To Lower Your Per Click Prices?
Make sure that your AdWords ads have compelling titles that inform web surfers about what they can expect on your site.


Use interesting descriptions that are related to the keyword. If possible, include a call to action or a reason to click in your descriptions.


Create more PPC landing pages that are directly related to your keywords.


Make sure that your landing pages are relevant to what web surfers are looking for.
Copyright by Axandra GmbH, publishers of SEOProfiler, a complete SEO software solution.

All product names, copyrights and trademarks mentioned in this newsletter are owned by their respective trademark and copyright holders.
Site Promotion Articles Indexes:

Increase Profits
Lower Ad Costs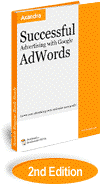 Writing Optimized
Google AdWords