This site is for sale, Learn More
Natural SEO vs. PPC Advertising
Should You Use PPC or SEO To Market Your Web Site?
Originally Published: September 20, 2005
Should you use PPC or SEO to market your web site?
How to get a better ROI with your natural search results
How to get a better ROI with pay per click advertising
Copyright by Axandra GmbH, publishers of SEOProfiler, a complete SEO software solution.

All product names, copyrights and trademarks mentioned in this newsletter are owned by their respective trademark and copyright holders.
Site Promotion Articles Indexes: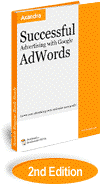 Writing Optimized
Google AdWords