This site is for sale, Learn More
How To Get Indented Listings On Google
Indented Listings Give Additional Exposure
Originally Published: May 5, 2009
What Are Indented Google Listings?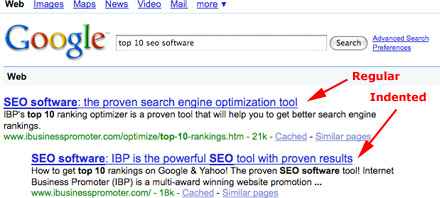 How To Get Indented Listings For Your Keywords
You must have a web page that already has a top 10 ranking for that keyword. If you do not know how to get top 10 rankings on Google for your keywords, use this tool.


Create a second web page on the same domain that links to the first web page that has the top 10 ranking. Optimize the second page for the same keyword as page one but use different content.


Link from the first page to the second page with your keyword phrase in the anchor text. If possible, use a contextual link within a body of text rather than a site-wide navigational link.


Get inbound links for the second page. Depending on the competition for the keyword, a few high-quality links can be enough to get the indented result.
Copyright by Axandra GmbH, publishers of SEOProfiler, a complete SEO software solution.

All product names, copyrights and trademarks mentioned in this newsletter are owned by their respective trademark and copyright holders.
Site Promotion Articles Indexes: